Industry: manufacturing, warehousing
Customer: prefer not to disclosure
Area size: 30,000 sq meter (322,917 sq. ft.)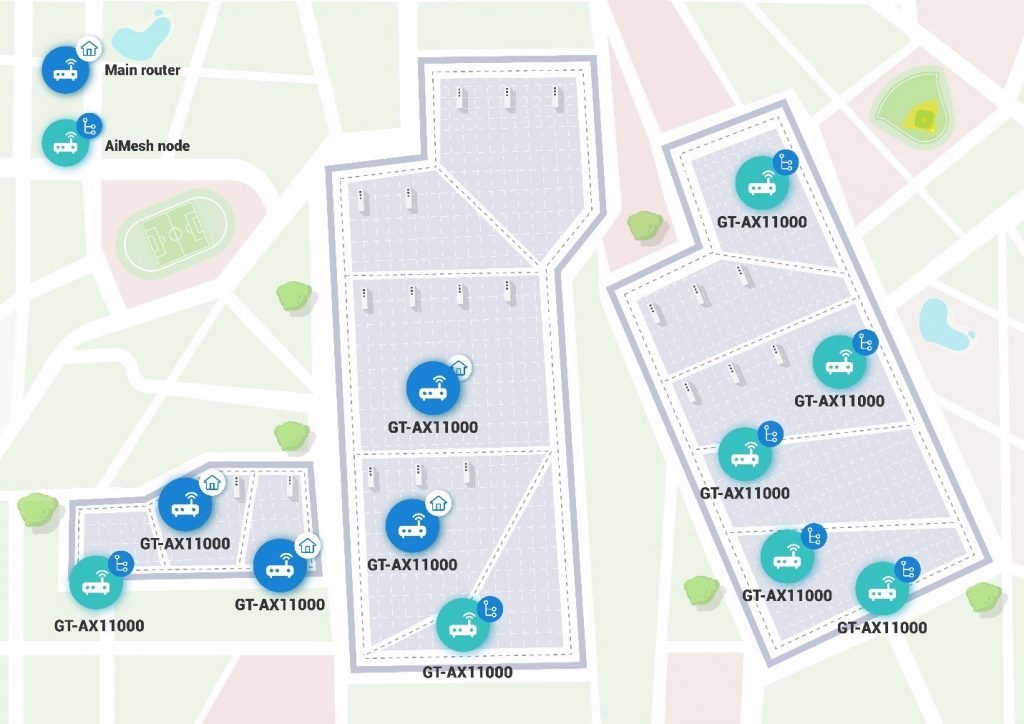 The customer is one of the manufacturing giants specializing in papermaking and paper converting in Taiwan. With continual innovation, the customer has launched numerous paper products, constructed a comprehensive paper industry supply chain, and developed into a famous enterprise group in the industry.

When modernizing its warehouse, the customer recently started to build smart warehouses and implemented many WiFi-enabled fork-lift trucks using ASUS VivoStick and touchscreen e-stock management systems. Maintaining seamless WiFi connections and coverage when there are so many forklifts moving around a site of over 30,000 m2 was a big challenge. The customer approached several business networking providers for installation and service quotations. However, for such a large site, the deployment cost was extremely high.

A QT manager in the company who uses ASUS routers at home proposed using ASUS AiMesh routers to solve the problem. The company bought several ROG Rapture GT-AX11000 routers for testing, and discovered that the ASUS routers provided better coverage in several warehouses than common ceiling-mount access points. With high-capacity throughput, the data transmission even with the forklifts moving around works perfectly, just like an office network environment. The adjustable external antennas can also be set at the optimum angle to provide even better WiFi performance within operational spaces.

Eventually, the customer chose ROG Rapture GT-AX11000 routers to build up their smart warehouse network and used their own internal experts to set them up. The company is now considering implementing the same solution in all their subsidiaries and warehouses.

How ASUS networking can help make your smart manufacturing or warehousing network a success
Here are the top reasons why upgrading to ASUS networking solutions can help manufacturing or warehousing owners:
Stable and fast WiFi and wired connections for efficient and risk-free operation
Scalable ASUS AiMesh technology offers wide WiFi coverage and flexibility even for large sites.
Easy-to-set-up network management for instant network health monitoring and VPN features via the ASUS router app or ASUSWRT web interface.
Ensure always-secure connections with your own business VPN and enterprise-grade ASUS AiProtection security, from your head office to your factories or warehouses.
Maximum WiFi 6 capacity ensures seamless network connections for multi-device environments in your factories or warehouses.
Wondering how ASUS can help your manufacturing business succeed? Speak to us today.