Scalability Made Simple: Achieve high-performance levels that cater to various SMB scenarios, ensuring smooth operations while flexibly adapting to evolving business requirements.
Secure Segmentation: Utilize VLANs and allocate up to five SSIDs, allowing the segregation and prioritization of devices across distinct business environments.
Efficient Power and Performance: Experience both power and data transmission through a single Ethernet cable by connecting an EBA63 PoE access point to an EBP15 PoE+ switch.
Streamlined Management with ASUS ExpertWiFi App: Employ an ExpertWiFi EBG15 gigabit VPN router for centralized control over EBP15, EBA63, and other network components, conveniently managed via the ASUS ExpertWiFi App.
ASUS has introduced the ExpertWiFi EBA63 PoE access point, EBP15 PoE+ switch, and EBG15 gigabit VPN router, all available for purchase after 2023 November. These three essential components for business networking have been intricately crafted to function harmoniously, presenting a comprehensive, adaptable, and dependable network solution suitable for enterprises like mid-sized offices, retail stores, or hostels. This system accommodates up to 12 node connections, ensuring efficient connectivity.
Engineered with the utmost emphasis on user-friendliness and scalability, the ExpertWiFi series proves itself as a fitting choice, even for business owners lacking dedicated IT administrators. Should users wish to expand their network reach, the solution offers a straightforward approach: the addition of one or more EBA63 devices to the existing setup. To top it off, the ASUS ExpertWiFi mobile app furnishes users with an intuitive means to oversee all aspects, boasting an array of rich features coupled with robust security measures.
The ExpertWiFi EBA63 PoE (Power over Ethernet) access point introduces rapid and uninterrupted roaming capabilities, boasting WiFi 6 speeds reaching an impressive 3000 Mbps. With the capacity to accommodate up to 100 active devices, it ensures optimal performance even under heavy usage, while its scalability feature effortlessly adapts to the ever-changing demands of a business network.
The EBA63 is marked by its versatility in deployment, catering to a variety of scenarios. It is compatible with both PoE connections (802.3af PoE or 802.3at PoE+) and AC adapters, allowing for flexible setup options. In environments where access to AC power is limited, users can conveniently utilize an Ethernet cable to connect to a PoE+ switch such as the ExpertWiFi EBP15, ensuring swift power and data transmission. Furthermore, the access point is equipped with mounting brackets, enabling it to be securely installed on walls or ceilings, making it an excellent choice for space-constrained areas.
Safety and reliability take precedence with the EBA63, as evidenced by its adherence to stringent standards. It complies with EMC60601-1-2 medical device standards and meets UL94 5VB plastics flammability standards, underscoring its durability and suitability for various environments.
Enhancing its utility, the EBA63 simplifies WiFi network setup through Self-defined Networks, contributing to an effortless configuration process. Additionally, it enhances business security through VLAN support and accommodates up to five SSIDs, facilitating device segregation and prioritization across diverse usage scenarios.
ASUS ExpertWiFi EBA63 Business PoE Access Point
The EBA63 is a Power over Ethernet (PoE) access point that offers fast WiFi 6 speeds and easy setup through the ASUS ExpertWiFi app. It caters to businesses requiring extended wireless signal coverage and can be easily managed using the wired gateway and PoE switches
The ExpertWiFi EBP15 PoE+ switch offers an efficient configuration featuring 4 PoE+ ports, each capable of providing a substantial 60 watts of power. This capability proves highly convenient, enabling the powering of diverse PoE-enabled devices. This encompasses equipment such as IP cameras, IP phones, and notably, PoE access points such as the EBA63.
Additionally, the EBP15 demonstrates its advanced functionality by incorporating support for VLANs, thus augmenting network security. The presence of QoS (Quality of Service) traffic management further contributes to the seamless operation of the network. This results in improved delivery of mission-critical data, ensuring optimal performance for vital traffic categories including voice, video, and multimedia applications. The inclusion of IGMP snooping specifically optimizes the handling of multimedia traffic, enhancing the overall network experience.
Furthermore, management of the EBP15 and its connected devices is streamlined through the integration with the EBG15 gigabit wired router, a hub of centralized control within the network. This arrangement allows users to effortlessly oversee both the EBP15 and the interconnected devices, offering a cohesive and simplified network management solution.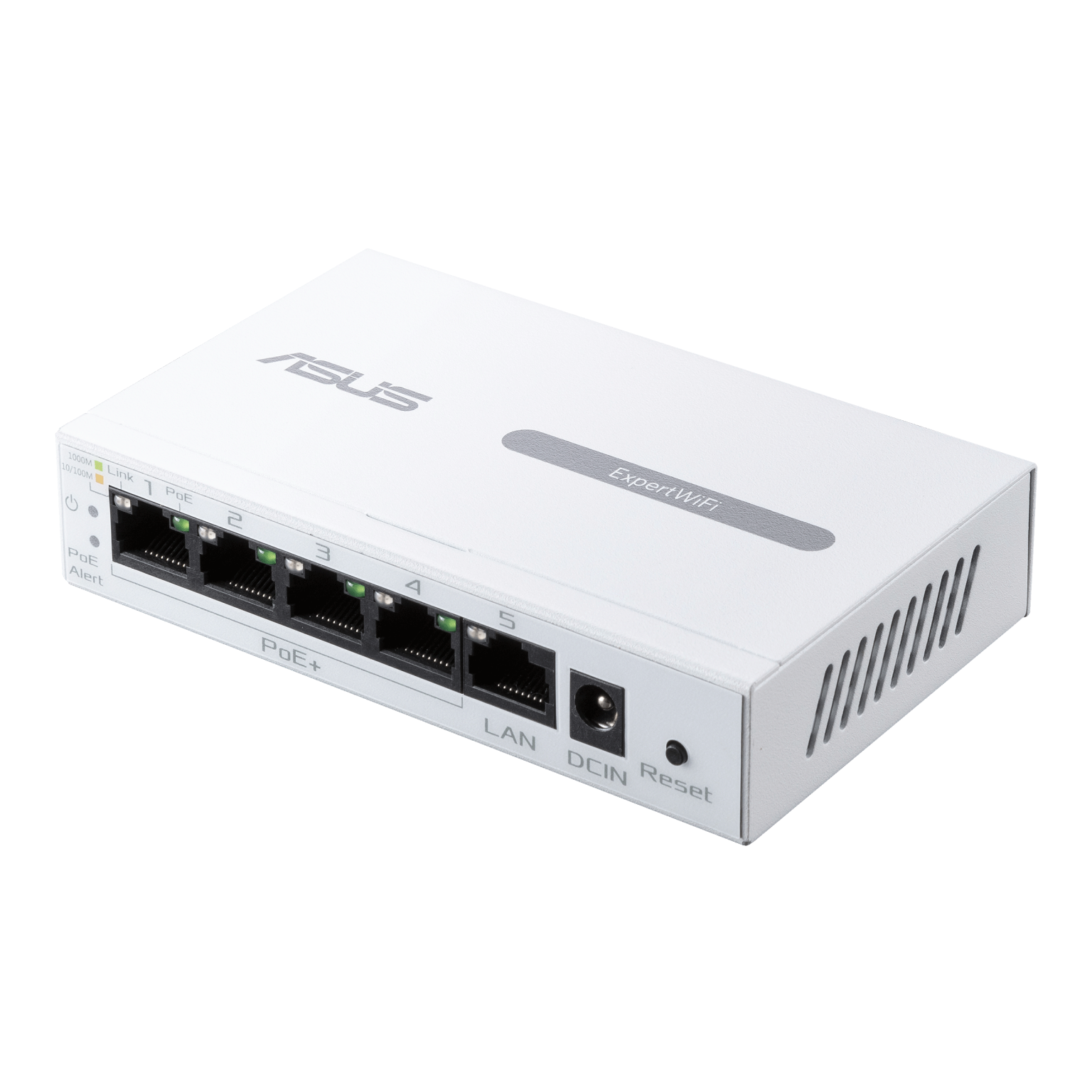 ASUS ExpertWiFi EBP15 Business Smart Managed PoE+ Switch
The EBP15 is a 5-Port GbE smart managed PoE+ switch. Each of the Ethernet ports can be assigned to a VLAN that provides additional security for your business
The ExpertWiFi EBG15 gigabit VPN router arrives equipped with one 1 Gb WAN port and two 1 Gb WAN/LAN ports, showcasing dynamic load balancing capabilities. This sophisticated feature optimizes data distribution by considering the bandwidth allocation of each WAN port, effectively maximizing the utility of multi-line broadband connections. This intelligent approach ensures efficient utilization of available bandwidth resources.
The EBG15 router also demonstrates its adaptability by supporting VLANs, a valuable asset for enhancing network security and segmentation. Moreover, the integration of backup WANs elevates network stability. By incorporating dual and backup WAN support, users can effortlessly designate the USB port as a backup WAN, conveniently connecting it to a mobile phone hotspot. The process is designed to be straightforward—simply plug in the necessary components and begin utilizing the network resources.
Setting up and managing the ExpertWiFi EBG15 is hassle-free, facilitated through the ExpertWiFi mobile app or a web browser. This inclusive approach extends to centralized management capabilities, encompassing devices like the ExpertWiFi series. The router is fortified with robust commercial-grade network security, inclusive of features like Safe Browsing. Notably, it provides VPN functionality, enabling secure connections to public WiFi networks. Furthermore, users enjoy a complimentary subscription to ASUS AiProtection Pro, enhancing the protective features of the network. The EBG15 is even designed to seamlessly fit into an electrical distribution box, contributing to tidier cable management solutions.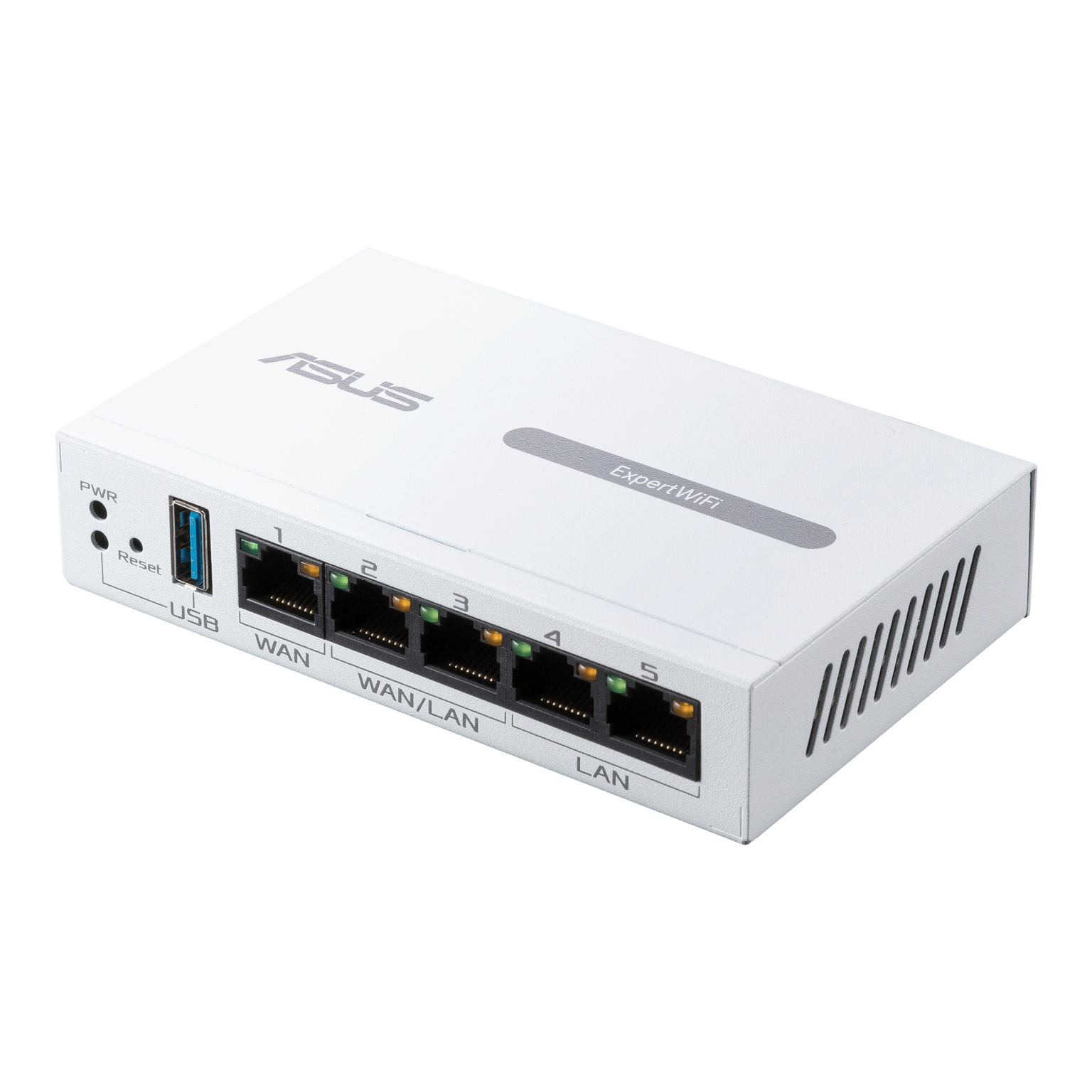 ASUS ExpertWiFi EBG15 Business Wired Gateway
The EBG15 is a wired gateway that offers easy setup through the ASUS ExpertWiFi app and commercial-grade network security. Besides two WAN/LAN ports that can be set as backup WAN, you can also set the USB port as a backup WAN by connecting it to your mobile phone with a hotspot
Additionally, the whole ExpertWiFi series is compatible with AiMesh, which allows easy coverage expansion by using AiMesh-supported networking solutions. Let's look at the other ExpertWiFi lineup: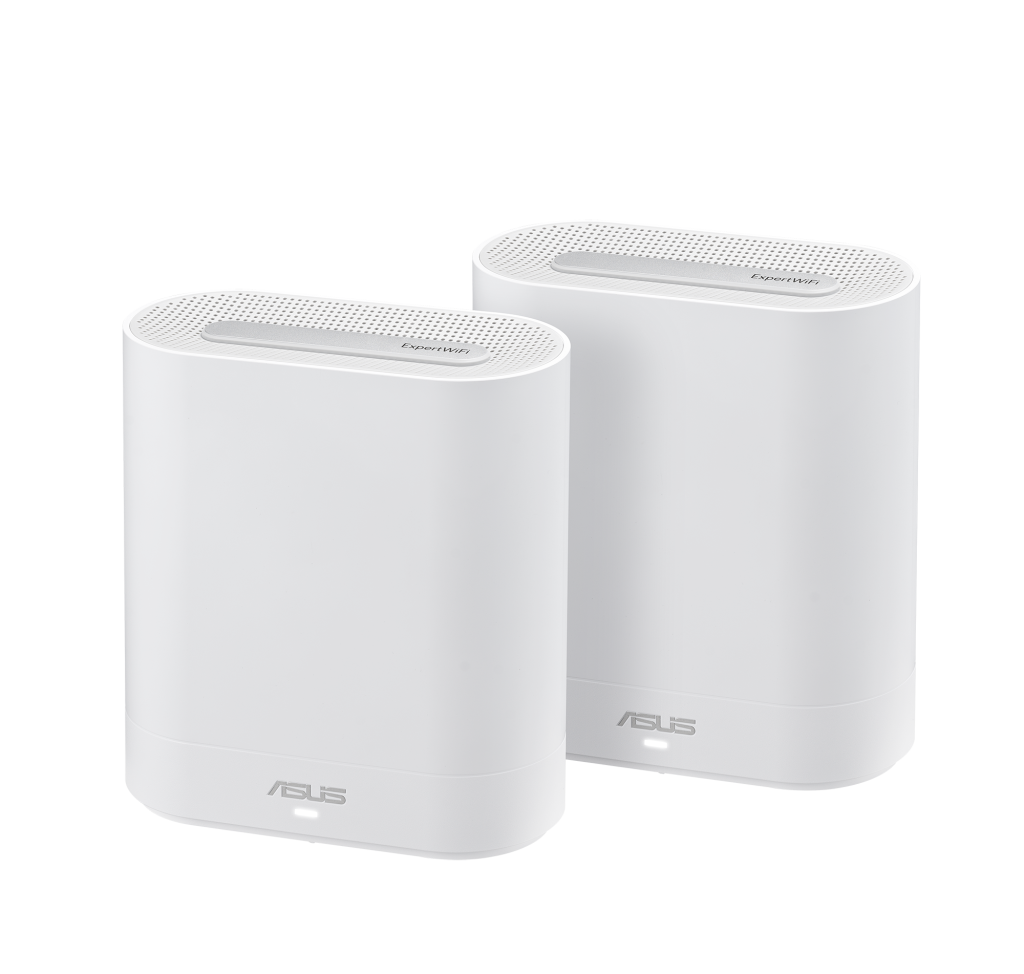 ASUS ExpertWiFi EBM68 Business Mesh WiFi System
Ideal for businesses that require scalable wireless coverage, the EBM68 is a WiFi 6 AX7800 mesh system that ensures seamless connectivity across large spaces and multiple floors. It allows for easy expansion by adding additional units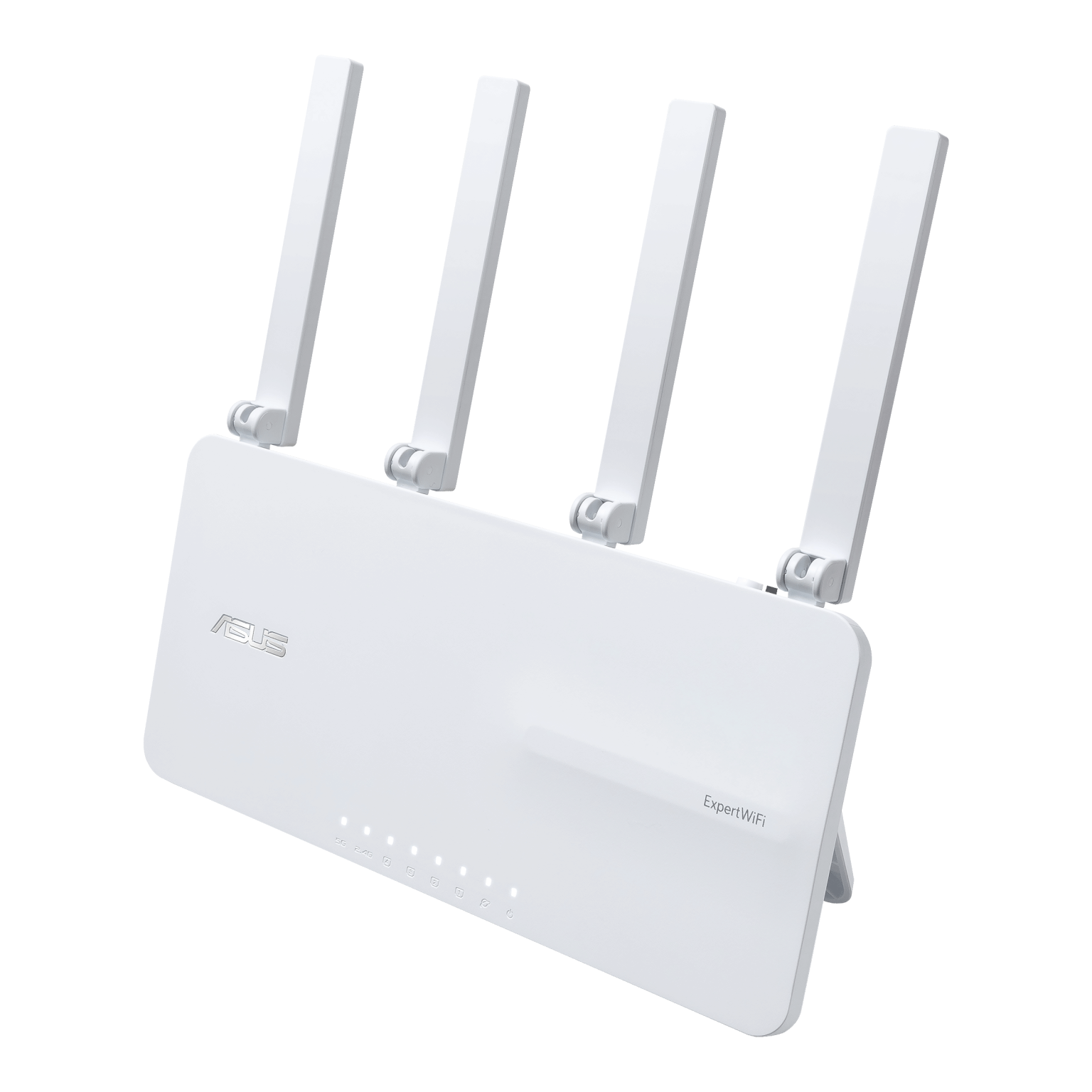 ASUS ExpertWiFi EBR63 Business Wireless Router
Designed for businesses like stores, cafes, clinics, and studios, the EBR63 is a compact router that can operate independently. Its space-saving stand mode makes it perfect for limited spaces, and its multiple ports provide connectivity options