Are you in search of the perfect router for your small business? Look no further. The ASUS ExpertWiFi EBR63 might just be the right choice for you.
Reason 1: Easy setup with User-Friendly App
The ASUS ExpertWiFi EBR63 boasts a straightforward App—ExpertWiFi App and Web GUI interface. This means that even if you're not tech-savvy, setting up this router is a breeze. Gone are the days when you'd need to hire an IT expert or spend hours trying to decipher complicated setup procedures. With ASUS ExpertWiFi EBR63, you can easily set up your network without any professional knowledge, saving you both time and money on IT management.
Reason 2: Guest Portal Feature to impress your customers
The ASUS ExpertWiFi EBR63 features a Guest Portal. This web page requires users to interact with it before accessing the network, ensuring authenticated access and presenting terms of service. Beyond security, it can serve as a marketing tool, allowing businesses to engage with users, display promotions, or gather feedback. This feature offers a blend of security and engagement, making it invaluable for businesses.
Reason 3: Advanced Security Features for a Safe Business Environment
n today's digital age, network security is paramount, especially in a business setting. The ASUS ExpertWiFi EBR63 understands this and comes equipped with top-notch security features. It offers AiProtection Pro without any subscription fees, ensuring your network is protected from potential threats. Additionally, with features like VLAN and VPN, you can segment your network and ensure secure remote access, respectively.
One More Plus: Versatile Design and Aesthetic Appeal
The ASUS ExpertWiFi EBR63 is not just about performance; it's also about style and versatility. Whether you want to lay it flat, stand it upright, or mount it on the wall, this router is designed to fit seamlessly into any environment. Its sleek white design ensures it complements any décor, making it a perfect fit for modern workspaces.
In conclusion, the ASUS ExpertWiFi EBR63 is a comprehensive solution for businesses looking for a reliable, secure, and stylish router. Its user-friendly interface, advanced security features, and versatile design make it a top choice for businesses of all sizes.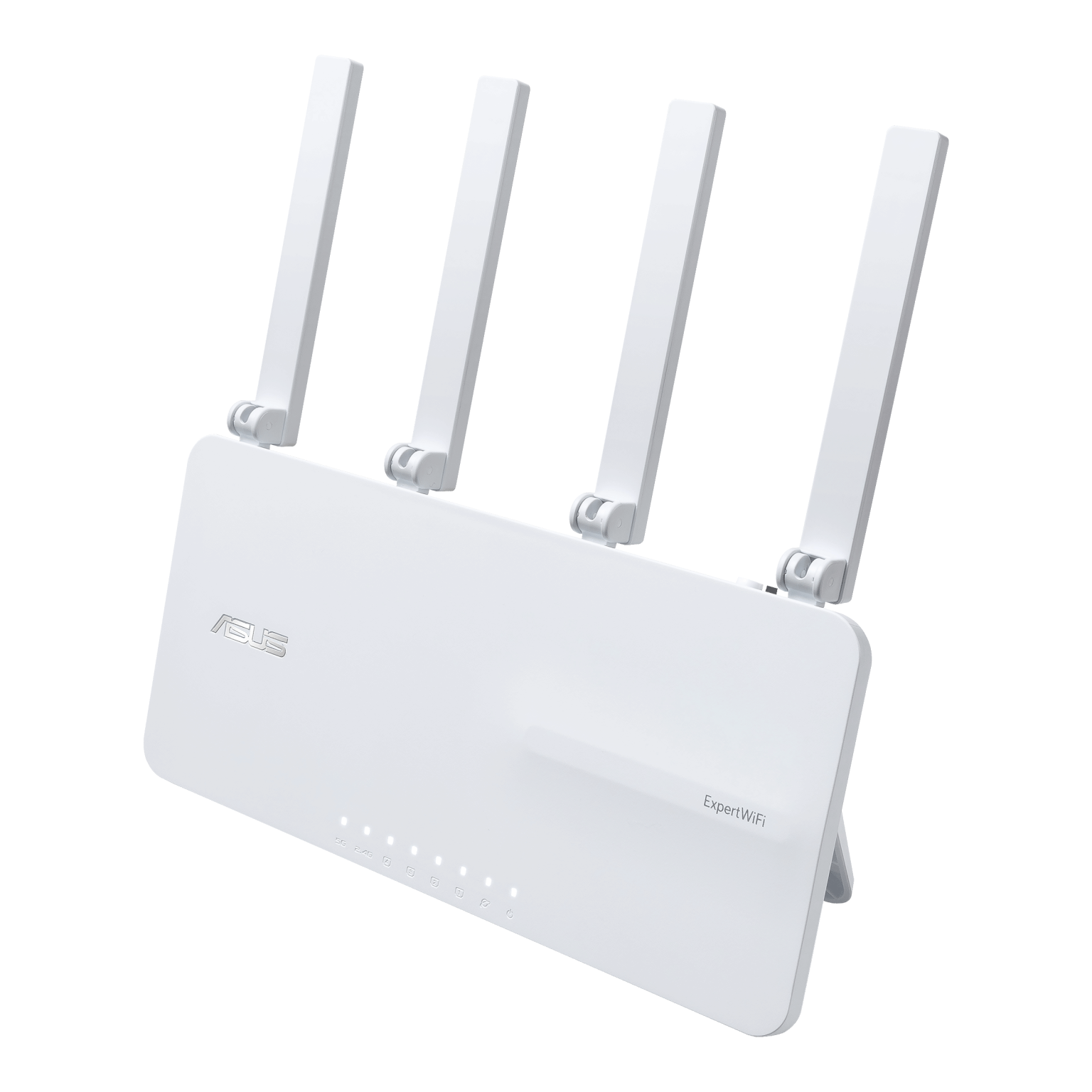 ASUS ExpertWiFi EBR63 Business Wireless Router
Designed for businesses like stores, cafes, clinics, and studios, the EBR63 is a compact router that can operate independently. Its space-saving stand mode makes it perfect for limited spaces, and its multiple ports provide connectivity options
** The ExpertWiFi series will be launched gradually in the second half of 2023.