The ExpertWiFi series provides small business owners with a total network solution.
In today's fast-paced business world, a reliable wireless networking solution is crucial for success. The ASUS ExpertWiFi series is designed to meet the specific needs of small businesses. With quick setup and easy management, commercial-grade network security, and flexible extendibility, the ExpertWiFi series offers comprehensive networking experiences for businesses. 
Quick Setup and Easy Management 
Setting up your ideal network is effortless with the ExpertWiFi series. The ExpertWiFi series is designed in a straightforward and scenario-oriented setup process, allowing non-IT personnel to manage the network effectively. The self-defined network (SDN) feature allows you to establish up to 5 SSIDs, enabling you to separate devices for different purposes. You can tailor your WiFi guest portal with its own portal type, SSID, brand name, connection timeout, and landing page to provide customized WiFi for customers. 
The ExpertWiFi series also provides site-to-site VPN for secure connections to remote sites, and supports multi-site management, letting business owners with multiple offices or workplaces connect all network devices under one administrator account. 
Stable Business Operation 
Cafes, restaurants, and shops heavily rely on technology to provide seamless customer service. However, a connectivity issue with their POS system during peak hours can lead to orders and revenue loss. With ExpertWiFi, shop owners can rest assured of the reliability and security of their network. Even if an unexpected outage occurred, the dual WAN failover solution automatically switches to a backup connection, keeping the POS system online and operational. Business owners can also use their smartphones as backup WAN sources by connecting smartphones to the router's USB port. The ExpertWiFi series ensures customer satisfaction and prevents revenue loss due to internet downtime. 
Commercial-grade Network Security
Security is a top priority for commercial network solutions. ASUS AiProtection Pro and WPA3 security protocol ensure a secure network environment, and your devices and data remain safeguarded with free security updates powered by Trend Micro. The ExpertWiFi series also comes with security features like Safe Browsing, Security Scan, and Instant Guard for secure internet access, and VLAN functionality enhances data security by assigning a VLAN profile to each interface.
Flexible Extendibility to Fit ALL Spaces
The ExpertWiFi Series is designed to cater to spaces of all sizes and their varying network requirements. For small businesses like cafes, the EBR63 stand-alone router is a compact solution with a cable organizer, providing all the necessary features. Medium-sized spaces, such as retailers and restaurants, can benefit from the seamless and high-performance wireless coverage of the EBM68, the mesh Wi-Fi system. For larger spaces like hotels, the EBA63 PoE access point extends wireless signal coverage and can be easily managed with the EBG15 and the EBG19, wired gateway, and the EBP15, smart managed PoE+ switch. By combining these products, businesses can achieve a stable and reliable network without limitations on expansion.
Additionally, the whole ExpertWiFi series is compatible with AiMesh, which allows easy coverage expansion by using AiMesh-supported networking solutions. Let's look at the ExpertWiFi lineup: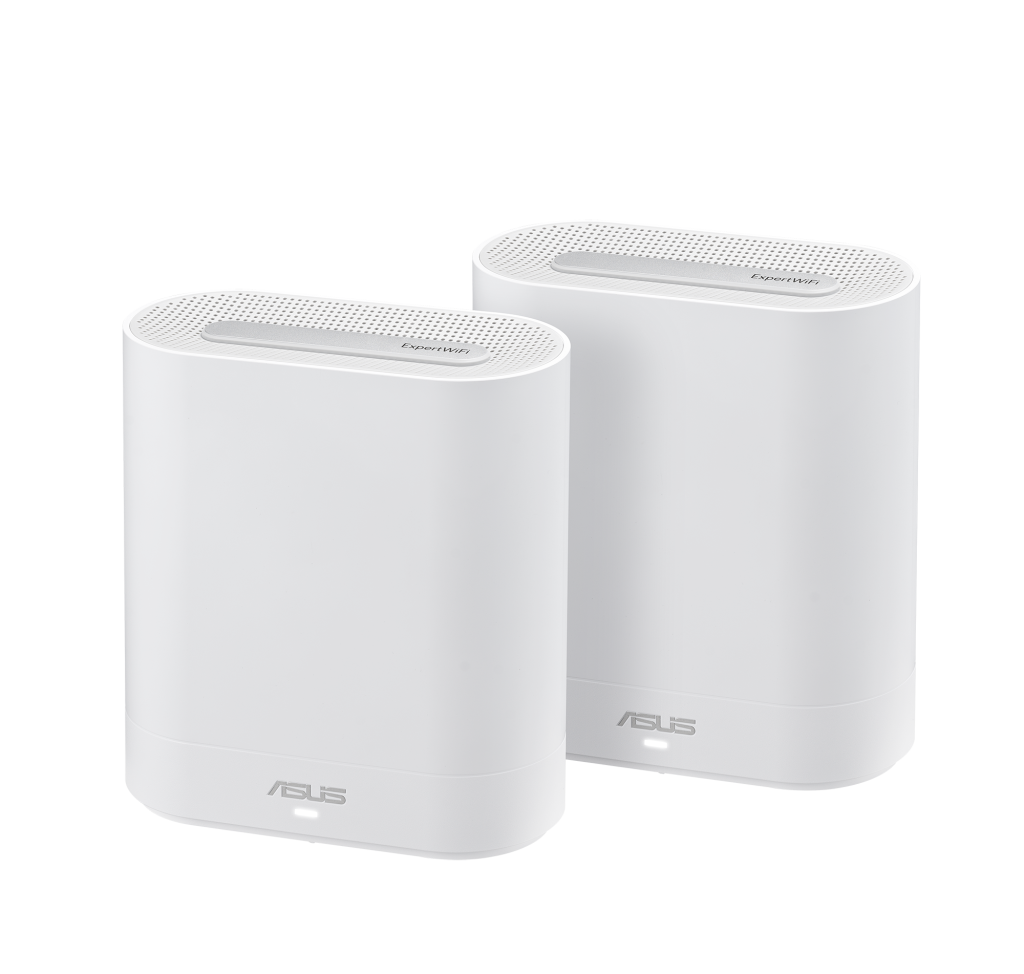 ASUS ExpertWiFi EBM68 Business Mesh WiFi System
Ideal for businesses that require scalable wireless coverage, the EBM68 is a WiFi 6 AX7800 mesh system that ensures seamless connectivity across large spaces and multiple floors. It allows for easy expansion by adding additional units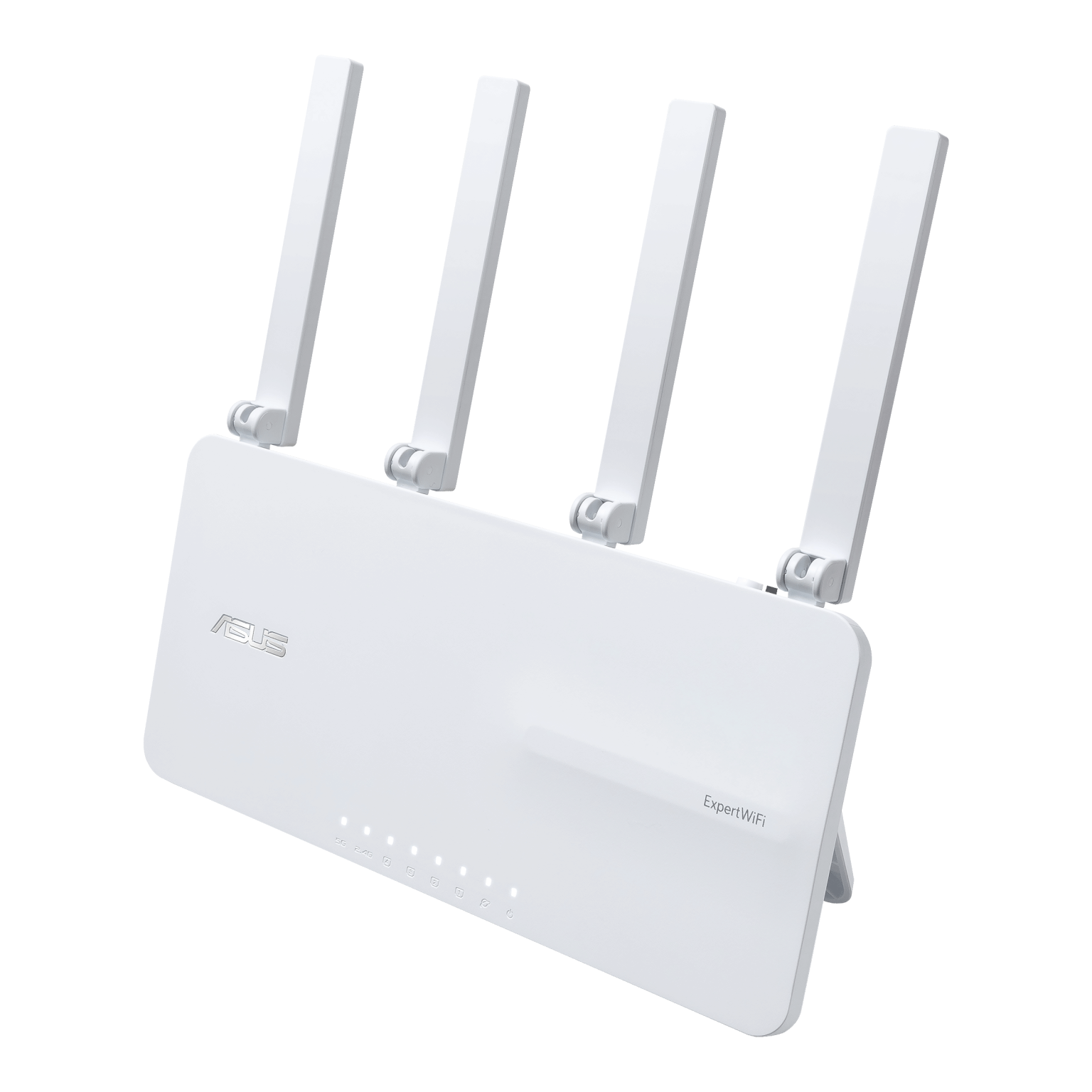 ASUS ExpertWiFi EBR63 Business Wireless Router
Designed for businesses like stores, cafes, clinics, and studios, the EBR63 is a compact router that can operate independently. Its space-saving stand mode makes it perfect for limited spaces, and its multiple ports provide connectivity options
ASUS ExpertWiFi EBA63 Business PoE Access Point
The EBA63 is a Power over Ethernet (PoE) access point that offers fast WiFi 6 speeds and easy setup through the ASUS ExpertWiFi app. It caters to businesses requiring extended wireless signal coverage and can be easily managed using the wired gateway and PoE switches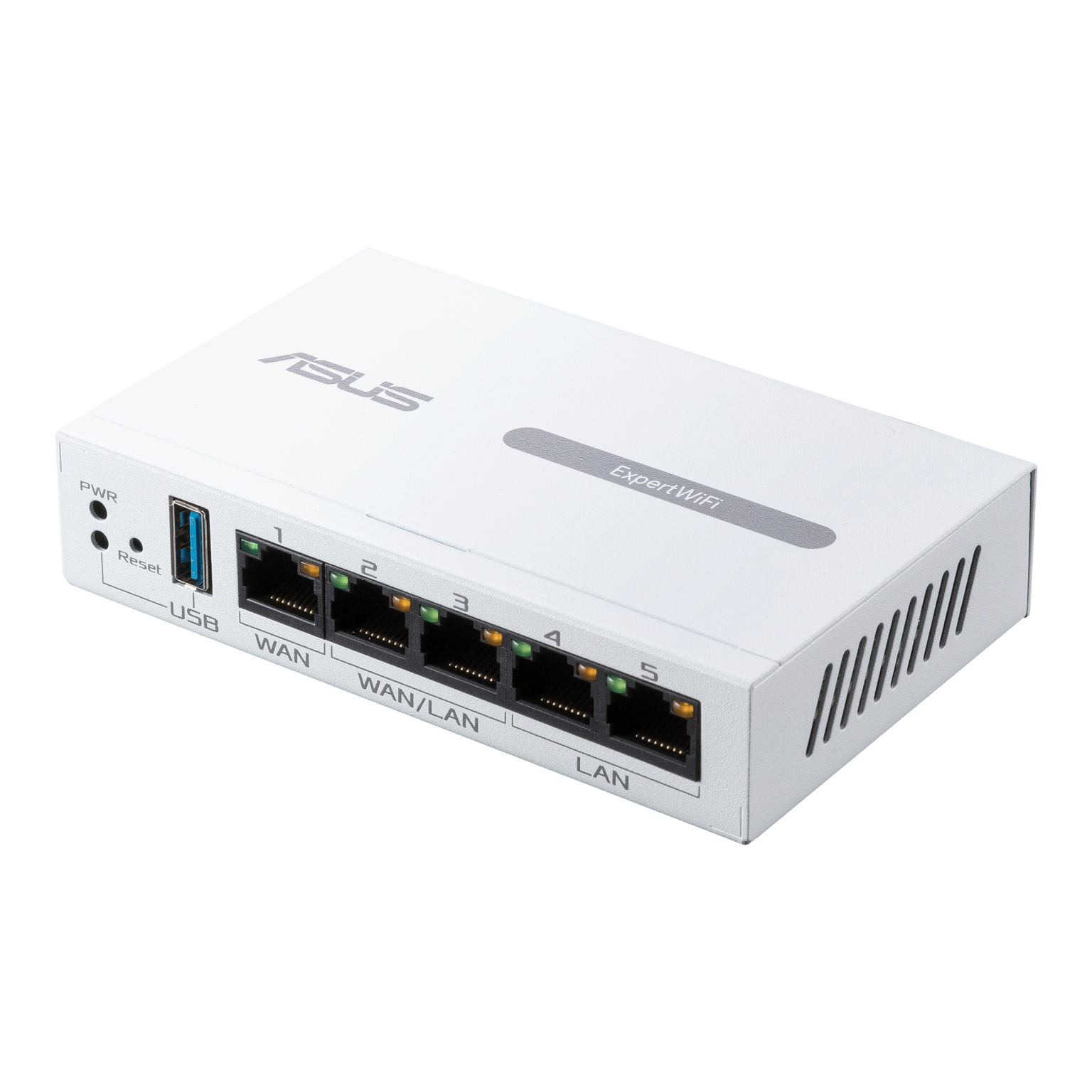 ASUS ExpertWiFi EBG15 Business Wired Gateway
The EBG15 is a wired gateway that offers easy setup through the ASUS ExpertWiFi app and commercial-grade network security. Besides two WAN/LAN ports that can be set as backup WAN, you can also set the USB port as a backup WAN by connecting it to your mobile phone with a hotspot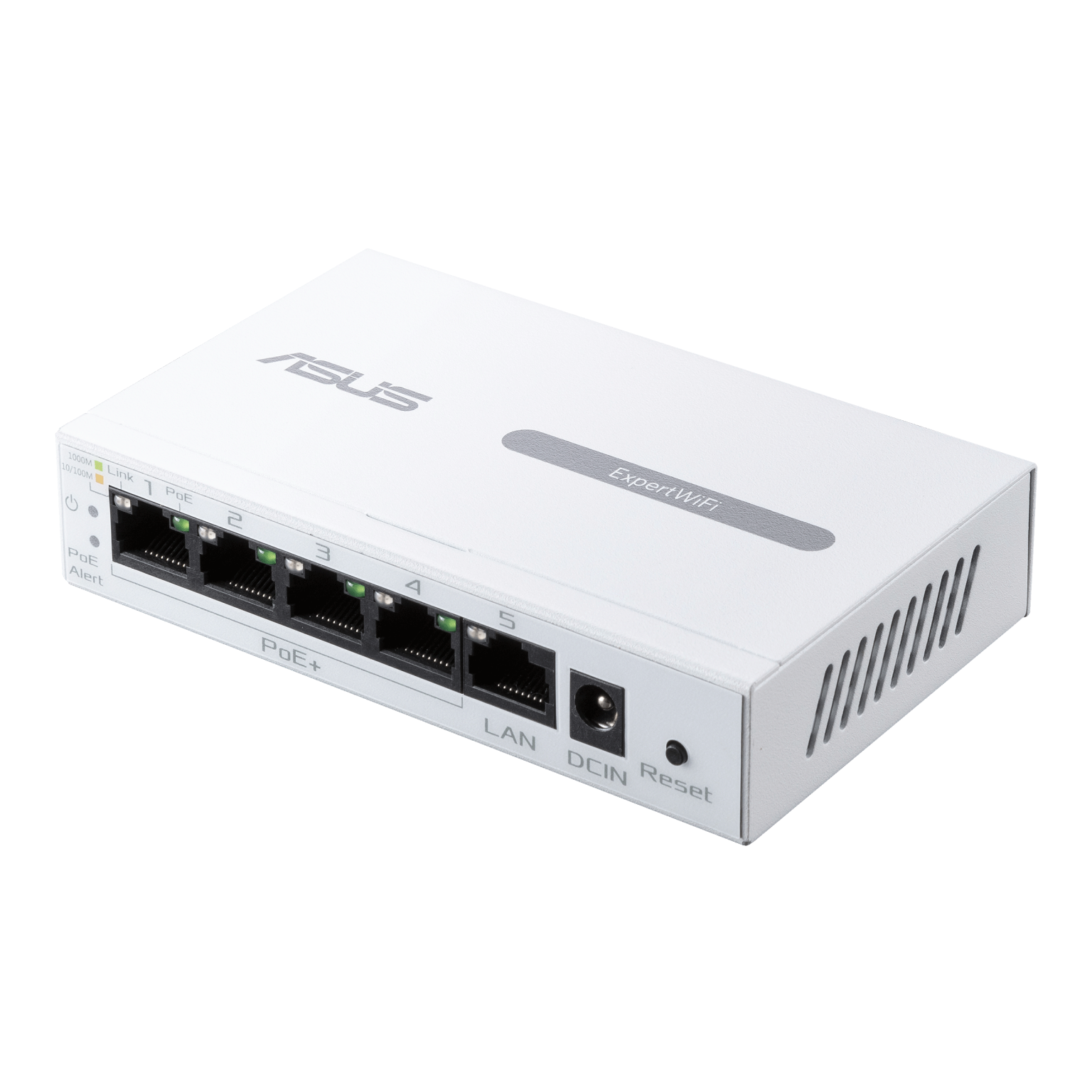 ASUS ExpertWiFi EBP15 Business Smart Managed PoE+ Switch
The EBP15 is a 5-Port GbE smart managed PoE+ switch. Each of the Ethernet ports can be assigned to a VLAN that provides additional security for your business
** The ExpertWiFi series will be launched gradually in the second half of 2023.