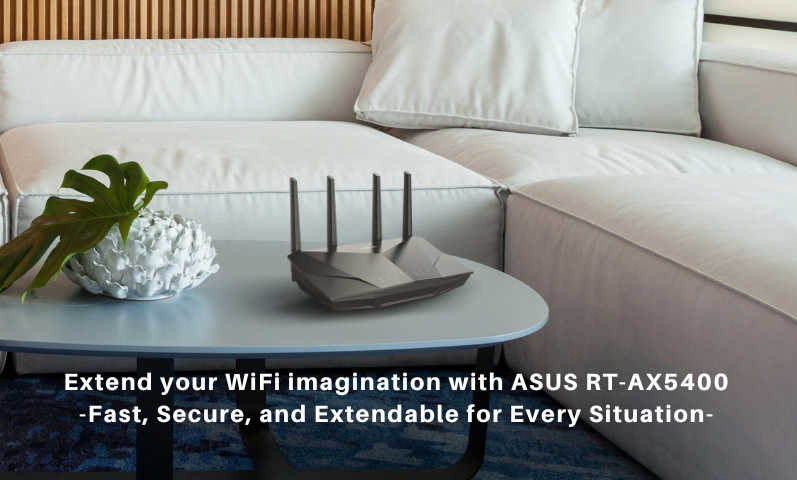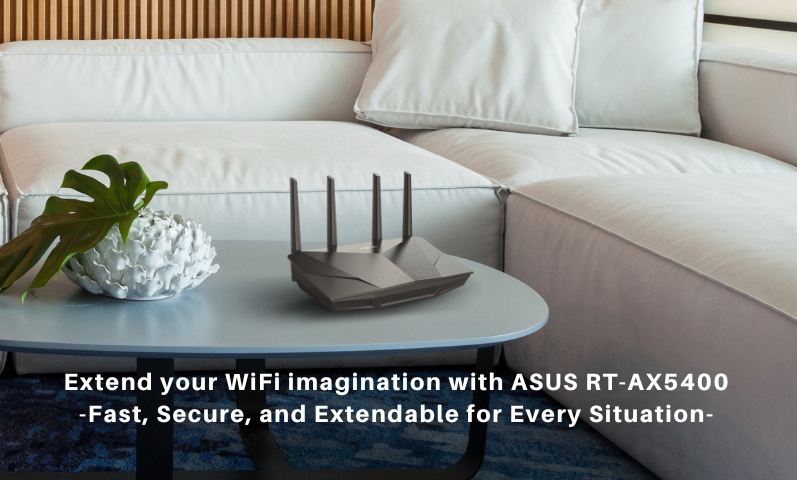 Extend your WiFi imagination with ASUS RT-AX5400: Fast, Secure, and Extendable for Every Situation
In the age of the internet, online security is more important than ever. Hackers and cybercriminals are always looking for ways to exploit vulnerabilities in your network and steal your sensitive information.
By using a built-in VPN on ASUS routers, creating a secure and private digital space that keeps your personal data safe from prying eyes will never be an issue. With ASUS RT-AX5400, you can enjoy high-speed, dependable WiFi while keeping your digital space protected and confidential at the same time!
RT-AX5400 offers impressive WiFi speeds of up to 5400Mbps, which is perfect for demanding applications such as streaming and large file transfers. It also supports both 2.4GHz and 5GHz bands, which means you can connect multiple devices at once without sacrificing performance.
Plus, its advanced security features provide comprehensive built-in VPN network protection against potential online threats such as hackers, ransomware, and brute force attacks. RT-AX5400 enables you to experience rapid and dependable WiFi connections while ensuring that your digital space remains well-protected.
And now, let me provide you with three everyday situations to demonstrate how indispensable ASUS RT-AX5400 can be!
Protecting Yourself on Public WiFi with ASUS Instant Guard
You're a remote worker and you love nothing more than sitting down with a cup of joe and your laptop in your favorite coffee shop. But have you ever stopped to consider the security of the free public WiFi?
Unfortunately, these networks are rarely secure, and hackers can easily capture any sensitive information you send to the internet. But fear not! With ASUS Instant Guard mobile app via your RT-AX5400, you can enjoy one-tap secure internet access and rock-solid security, even when using public WiFi.
Say goodbye to the anxiety of having your digital footprint exposed on public WiFi, and start living your life to the fullest – with a cup of joe in hand – just as you deserve!
Effortlessly Manage Your Kids' Online Time with RT-AX5400
However, it's not just for remote workers who need to worry about their internet security. Navigating the complexities of parent-child relationships has never been a walk in the park, and managing your kids' internet usage can be even more challenging
With RT-AX5400 advanced security features and Parental Controls, enjoying peace of mind while using public WiFi and effortlessly managing your kids' online time and accessibility will just be a piece of cake!
With robust Parental Controls and no subscription fee, you can gain insight into your kids' online activity and customize settings for different age groups. Just one click, you can flexibly schedule internet access or even grant extra online time to reward good behavior, promoting healthy internet habits, fostering responsibility, and building trust with your kids. Let ASUS RT-AX5400 become your trusty companion on the journey of parenting.
Seamless and Extendable WiFi Coverage with RT-AX5400
In addition to its exceptional performance and Parental Controls, RT-AX5400 also features easy-to-use management tools, allowing you to set up and manage your home network with ease and seamlessly!
Imagine you and your family have been eagerly anticipating a movie marathon all week. You've got the snacks, the drinks, and the perfect movies lined up. You settle in and start streaming your favorite shows on different devices in different rooms of your home. But just as you get to the most exciting part of the movie, the WiFi connection drops, leaving you frustrated and disconnected. You try resetting the router, but the problem persists. The constant buffering and dropped connections ruin the entire movie marathon, leaving you and your family disappointed and dissatisfied. This is not only frustrating, but it can also be a significant inconvenience, especially if you rely on a stable and reliable WiFi connection for work or school.
But what if there was a solution that provided seamless WiFi coverage for your entire home? That's where ASUS extendable router–RT-AX5400 comes in.
Unlike traditional routers or range extenders, RT-AX5400 provides a single, uninterrupted WiFi network for your entire home. With built-in-AiMesh, You can easily add more ASUS extendable routers to your network whenever you need to extend your coverage, and RT-AX5400 and other ASUS routers will work together automatically to determine the best signal and seamlessly transfer the connection between them, without any need for input from you.
Whether you're a movie buff, a streamer, a remote worker, a parent, or just looking for a reliable and secure internet connection, RT-AX5400 is an investment in the future-proofing of your WiFi connection. With its advanced security features and built-in VPN, you can enjoy browsing the internet without worrying about hackers or ransomwares stealing your sensitive information. Its high-speed WiFi connection is perfect for demanding applications such as streaming, large file transfers, and online gaming. Plus, its extendable range makes it a great solution for large homes or areas with spotty WiFi coverage. So why wait? Invest in your online security and experience seamless, uninterrupted WiFi coverage with RT-AX5400 today!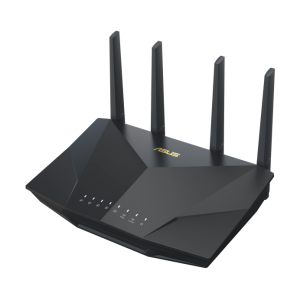 AX5400 Dual Band WiFi 6 (802.11ax) Extendable Router, Included built-in VPN, AiProtection Pro Network Security, Parental Control, Instant Guard, AiMesh-Compatible
** Disclaimer: ASUS participates in several affiliate programs, including the Amazon Associates program, and may receive affiliate fees for qualifying purchases.