Does your kid spend too much time on mobile devices every day? Or have you ever wondered how to keep your kids away from inappropriate content and internet addiction? Kid-Safe Preset offers one of the easiest ways to filter content and set time limits to manage your child's online activity. It could also be a good starting point for parents who are not sure where to begin the setups of Parental control.
The Kid-Safe Preset is a convenient preset that comes with Parental Control feature in ASUS routers, it is designed to make parental control easier to set up filters and restrictions to protect children from inappropriate content based on recommended age settings. And still be able to customize the settings accordingly.
What Kids Safe Preset Helps?
Save your time to create custom settings for each kid.
Save your effort to do the research for proper setups.
Easily set up parental control with presets.
Preset content filters to block inappropriate content by age.
Preset online or offline schedule to limited internet access by age.
Easily look after the digital wellbeing for your kids.
How To Use Kid-Safe Preset To Set Up Parental Control Settings?
Like we said, it is designed to make parental control easier to set up. All you need to do is open your ASUS router app, go to "Family" tab and select an age level. It will directly apply age-recommended online access time and inappropriate content – it's just that easy!
Remember, you can still set up your own rules based on preset settings to perfectly fit your needs. We hope you enjoy kid-safe preset a lot and create more quality time with your family!
There is something you should know about randomized MAC Addresses
Due to privacy concerns, iOS, Android, and Windows built-in randomized MAC address features allow devices to access various networks in different MAC addresses. Parental control will not work properly under these circumstances since your router cannot identify the MAC address. If you have such problems, please refer to the following article.


* Supports firmware: Later than 388.xxxxx.
* Kid-Safe Preset only supports ASUS router app.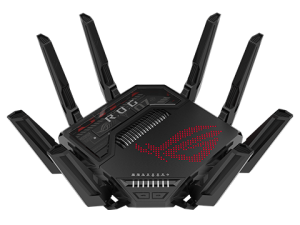 The world's first quad-band WiFi 7 ROG gaming router.