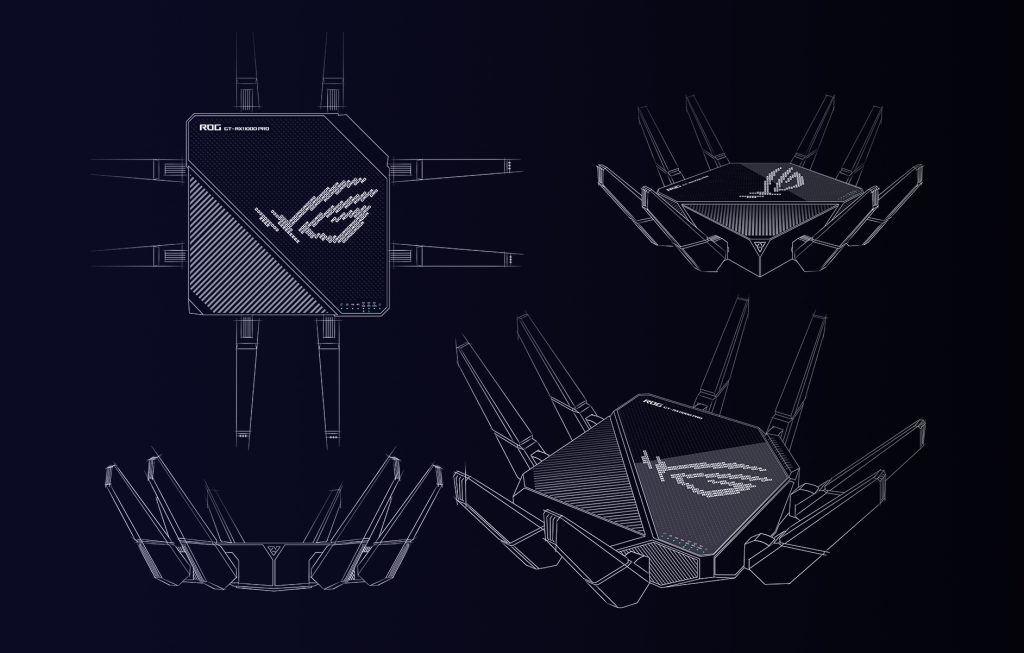 Asus ROG routers often feature cutting-edge technologies, with specifically designed for gamers and are known for their high-performance, durability, and aesthetic appeal.
The ROG Rapture GT-AX11000 Pro cover are graced with a new ASUS-exclusive design known as the Matrix Display.
Let's explore more of GT-AX11000 Pro's design concepts, our ROG router design formula typically includes the following elements: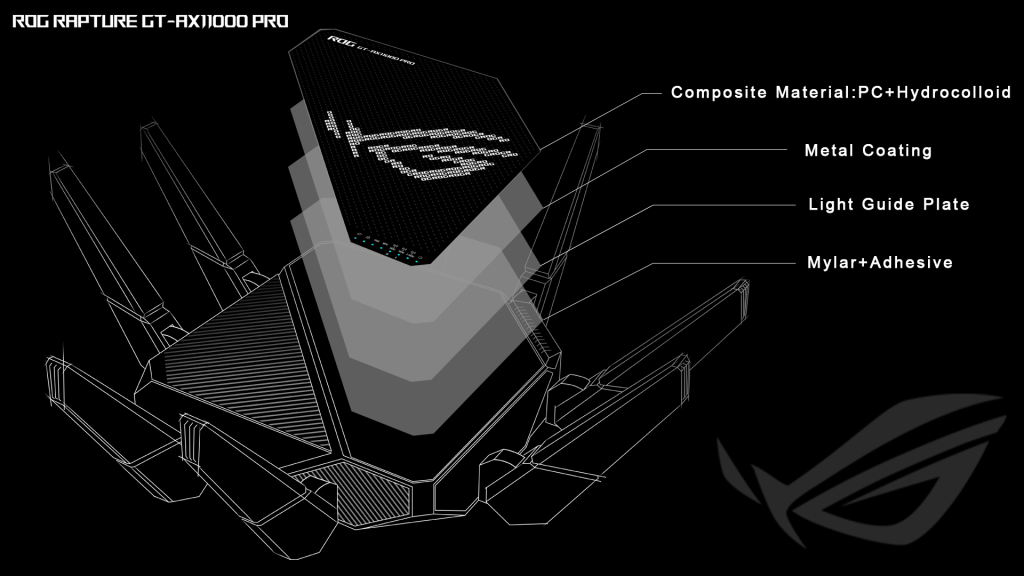 ID design: The ROG Rapture GT-AX11000 Pro with slash design and aggressive aesthetics to show a sense of power and gaming prowess. Asymmetrical and stylized emblem that represents the Republic of Gamers brand.


The nameplate design: Full of matrix design prominently displayed ROG logo on the nameplate. This helps identify the specific product within the ROG lineup.


Graphics/Artwork: ROG nameplates often feature eye-catching graphics or artwork related to gaming, such as futuristic designs, abstract patterns. These graphics add visual appeal and reinforce the gaming theme of the ROG brand.


Material/Finish: The nameplate matrix design composed of four layers of different materials, From the composite material: PC and hydrocolloid on the top layer, light guide plates and metal coating are used in the middle, at the bottom used reflective mylar to form the final appearance design.


Illumination: ROG Rapture GT-AX11000 Pro features RGB lighting, and the nameplate matrix design may incorporate LED illumination to enhance the aesthetics. This innovative display features an RGB LEDs that can be programmed to show off style with custom lighting designs. ROG Matrix design includes different RGB lighting. This allows gamers to personalize the appearance of their hardware with a wide range of colors and lighting effects, creating a visually stunning and immersive great gaming experience.


Antennas: Depending on the product, ROG routers have always had a strong antenna structure to enhance signal transmission. In addition, the design style of our ROG series gives people a sense of spider appearance.
Finally, ROG Rapture GT-AX11000 Pro's design represents strong belief of high-performance, premium, and visually stunning aesthetic that caters to gamers and PC enthusiasts who demand the best in terms of both performance and aesthetics. With carefully crafted components, intricate patterns, and thoughtful design elements that enhance both the aesthetics and functionality of the hardware. We had strategically placed heatsinks, reinforced PCBs and shielding for added durability and reliability.
ROG router has gained a strong reputation in the gaming community and is considered one of the leading brands in the gaming industry. Many professional gamers and gaming enthusiasts around the world choose Asus ROG routers for their gaming setups due to their performance, reliability, and innovation.
Enjoy your game with ROG Rapture GT-AX11000 Pro supported and welcome to the ROG world!
ROG Rapture GT-AX11000 Pro
Tri-Band WiFi 6 gaming router, 2.5G port, 10G port, enhanced hardware, ASUS RangeBoost Plus, 5.9 GHz, Triple-level game acceleration, free network security and AiMesh support
** Disclaimer: ASUS participates in several affiliate programs, including the Amazon Associates program, and may receive affiliate fees for qualifying purchases.