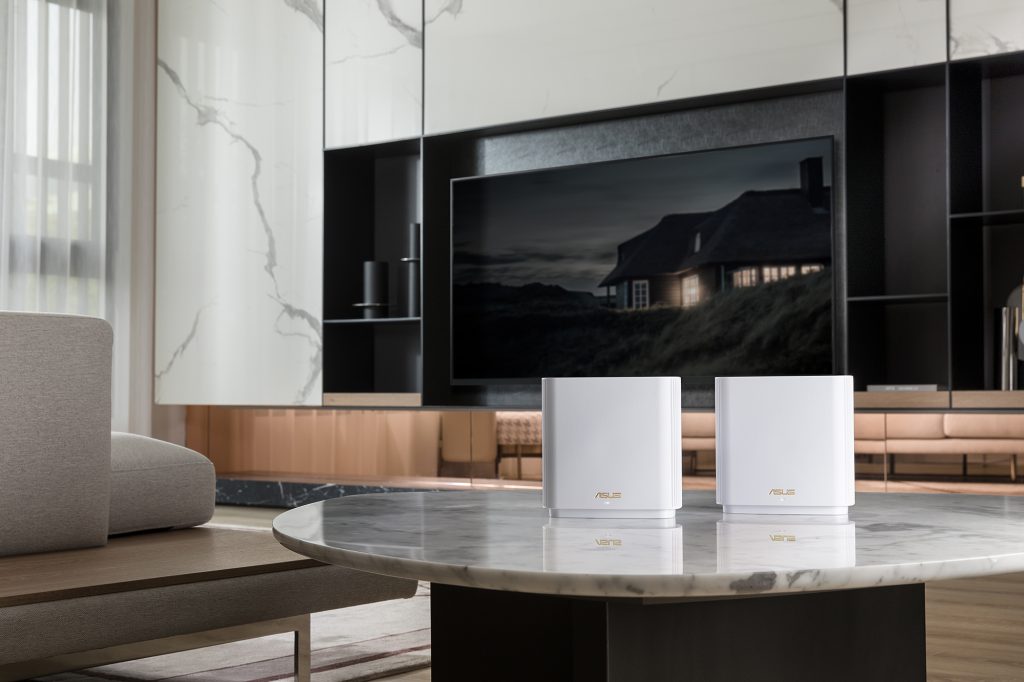 The ASUS ZenWiFi XT9 provides a reliable and secure smart home network that can cover up to 5,700 square feet1 with speeds of up to 7,800 Mbps. This makes it an excellent option for homes with multiple users who need fast and reliable internet for streaming, downloading, or online gaming.
Extensive Network coverage
One of the key features of the ASUS ZenWiFi XT9 is its support for 160 MHz channels2 which provides higher performance for wireless devices. In addition, thanks to a powerful combination of cutting-edge technology, ASUS RangeBoost Plus technology which improves signal range and overall coverage, ensuring a strong WiFi network throughout your home.
Expanded UNII-4 spectrum3
The ZenWiFi XT9 is supporting the newly expanded UNII-4 spectrum, also known as the 5.9 GHz band. This expansion unleashes the full potential of WiFi 6 by introducing a third and clear 160 MHz channel that is free from any interference from radar systems. With this advantage, users can enjoy stable and powerful mesh backhaul performance, which extends the signal range of the 160 MHz channel by up to 20%, without the need for upgrading to devices that explicitly support the 5.9 GHz band. This enhancement greatly improves the overall performance of the mesh network, providing an even better user experience for everyone.
The advanced protection provided by ASUS AiProtection Pro, powered by TrendMicro™, offers commercial-grade security through a collection of router monitoring, real-time hardening against network intrusion, and advanced parental controls – all without any additional subscription fees.
Overall, the ASUS ZenWiFi XT9 is an excellent choice for anyone who needs a reliable and secure home network that can support multiple users and devices. With its advanced features and easy setup, it's a great option for anyone looking to upgrade their WiFi network.
The coverage statistics in this press release are based on the performance of 2-pack mesh router. Actual data throughput and WiFi coverage will vary from network conditions and environmental factors, including the volume of network traffic, building material and construction, and network overhead, result in lower actual data throughput and wireless coverage.
160MHz bandwidth may be unavailable in the 5GHz band in some regions/countries, due to regulatory restrictions. And to benefit from WiFi 6 router features, compatible WiFi 6 devices are required.
Measured using a WiFi 6 UNII4-supported mesh system, compared to non-UNII4 mesh system.
** Disclaimer: ASUS participates in several affiliate programs, including the Amazon Associates program, and may receive affiliate fees for qualifying purchases.