ASUS launched its mainstream performance router – RT-AXE7800, which support the latest wireless technology – WiFi 6E. The newly available 6GHz frequency band may level up home network speed to higher WiFi performance and more stable connectivity with speeds up to 7800 Mbps. Benefit from WiFi 6E, except the new F1 level racing speed 6GHz band for low latency and less interference, but more to offer up to 7 extra 160MHz channels to increase network capacity, and zero wait DFS(Dynamic Frequency Selection) to get fast connection without delays. There's more IoT devices, phones, PCs are supporting WiFi 6E network speed, it's time to upgrade router, and enjoy a congestion-free network. Chill with a cup of tea, browsing through streaming platform, never again stuck on an annoying loading screen.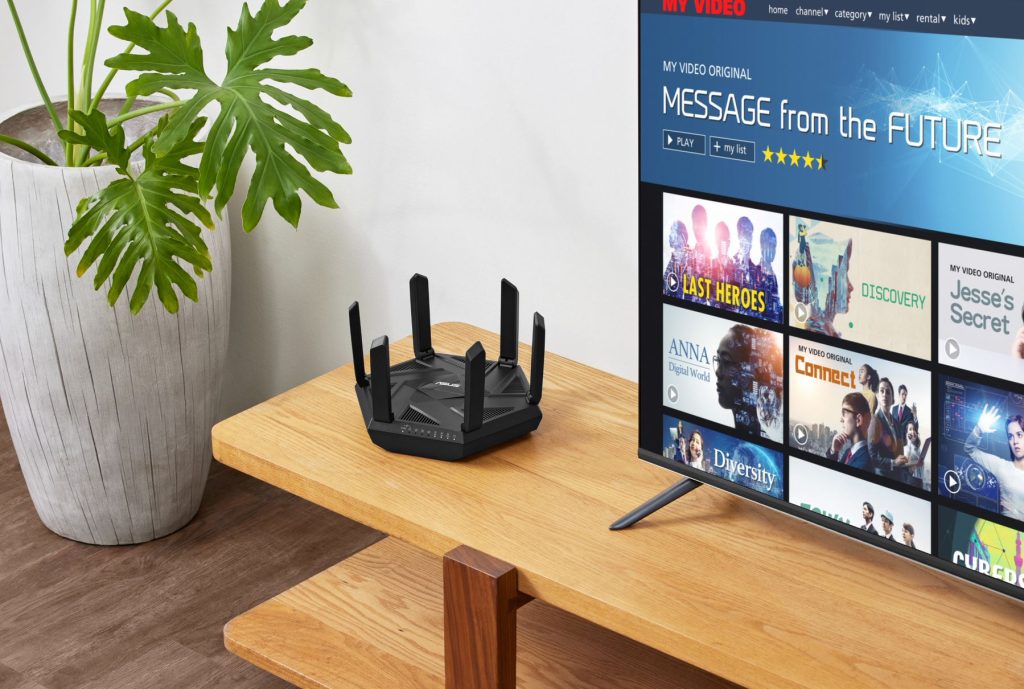 New breakthroughs on software side are built in this machine as well. Consider potential online threats, this router has been piled up with a bunch of network security gadgets, the authentic ASUS AiProtection Pro powered by Trend Micro™, one-click Instant Guard, one-tap Safe Browsing, free Parental Controls, VPN Fusion, and more to find out with ASUS router.
Make free WiFi secure with Instant Guard – Thanks to its encrypted VPN tunneling technology, when away from home, no need to worry about public internet security. Our newly upgraded app even lets you easily share this worry-free network connection with family and friends through a URL link.
One-tap Safe Browsing – The Newly launched Safe Browsing to prevent kids from inappropriate content, intrusive ads, and malicious website. With one tap on ASUS Router APP, a content security shield is build, lower the safety risks from undesirable contents. A simple way to protect kids without extra cost or complex settings.
Worry-free Parental Controls – On your fingertips, may customize profile to manage kid's internet access schedule, and a treat of reward time settings, may grant extra online time if behaving good. Happy parents, happy kids, strongly suggest try it today!
VPN your way with VPN Fusion – Make streaming, gaming easier via multiple VPN scenarios. No matter using OpenVPN or WireGuard, get you a fast but secure connection for daily regular use.
Secure connections with superior speed is the design concept that ASUS build up such performance router for home networking. Check out ASUS RT-AXE7800 WiFi 6E router at your local retail channels, or just browsing through any online shop, and order it today. Now available on Amazon.
AXE7800 Tri-band WiFi 6E (802.11ax) Router, New 6GHz Band, ASUS Safe Browsing, Enhanced Network Security with AiProtection Pro and Instant Guard Sharable Secure VPN, Free Parental Controls, 2.5G Port, Link Aggregation.
** Disclaimer: ASUS participates in several affiliate programs, including the Amazon Associates program, and may receive affiliate fees for qualifying purchases.