(The FITTEST WiFi devices will be the BEST Wi-Fi solution for you.)
Why should you read this article?
 To understand the different segments of the ZenWiFi Series.
 To find the best WiFi solution for you.
How to Choose a Mesh WiFi Router Between ZenWiFi Series?
Have you ever struggled with the buying decision between a variety of routers on the market? In this article, we will bring you some ideas to make the right choice between our ZenWiFi series.
As we have several models in ZenWiFi Series, XD4, XD4S, XD5…XT8, XT9…and more, we can first categorize them into two groups: dual-band routers and tri-band routers.
Is the model dual-band or tri-band?
Generally, dual-band routers support 2.4 GHz band 5 GHz bands each and provide you with a fast internet speed. On the other hand, tri-band routers not only meet your need for speed, but also provide you with one more band, either the 5 GHz band or the 6 GHz band, which can be used as a dedicated backhaul for mesh routers.
To make the best choice, count the number of WiFi-needed devices you have at your place first. If you have many WiFi devices and require fast WiFi speed and low latency, you may consider purchasing tri-band mesh routers to meet your need.
Does the model work on 160 MHz or the 6 GHz band?
Wider bandwidth brings higher data transmission capacity, and thus accelerates the internet speed. You may first look into whether your client devices support working on 160 MHz or not when deciding between different models. At the same time, you can also have a look at whether the devices can work on the 6 GHz band.
Since 2021, the 6 GHz band has been available with the introduction of WiFi 6E; thus, compared with the popular 2.4 GHz band and the 5 GHz band, the 6 GHz band hasn't been used by many devices and could provide a relatively faster and stabler WiFi connection. If you already have many WiFi devices connecting on the 2.4 GHz or the 5 GHz, you could take a look at the WiFi 6E mesh routers, ET8 and ET12, which will provide you with a new WiFi experience.
However, you may think that the 6 GHz band may be useless when you don't have client devices that support working on 160 MHz or the 6 GHz band. The fact is that whether you have 6 GHz devices or not is definitely not an issue. The 6 GHz band can work as either the fronthaul or the backhaul, which means you can make your mesh routers connect with each other on the 6 GHz band. So, if you need an ultrafast backhaul connection, you can consider a router that supports 160 MHz working on the 6 GHz band.
How many I/O ports does the model provide?
To decide which models to buy, you will also need to know how many ethernet ports you require in advance. If you have a lot of devices that demand an ethernet connection; for example, TVs, gaming consoles, and desktops…, you shall leave sufficient LAN ports for them.
Counting the devices that need wired internet is not enough, you may also consider the locations you plan to place the mesh routers since it is hard applying ethernet cable to every corner such as in a closet or on the concrete ceiling. In addition, if you plan to connect your mesh routers by ethernet cable, remember to leave one LAN port for the mesh router and one WAN port for the node.
Find the BEST Solution for You
Honestly, finding the most suitable WiFi system for anyone is never an easy task since there are hardly any places with the same internet condition. We provide you with a comparison table of ZenWiFi whole series models to help you find the best solution for you.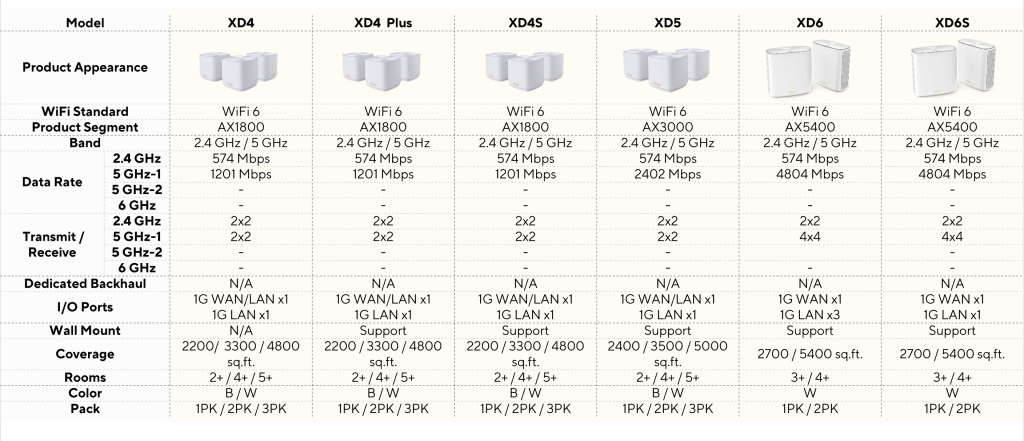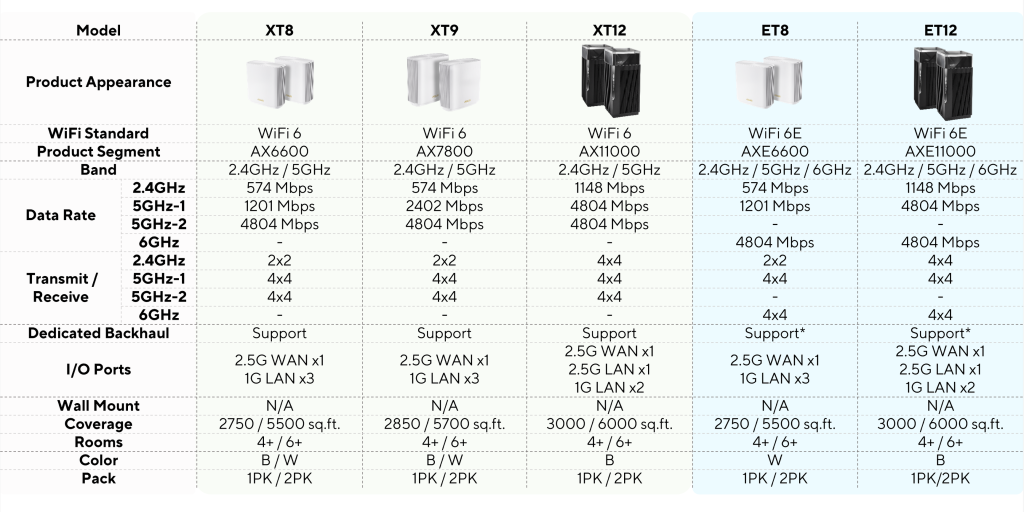 * Our WiFi 6E models, ET8 and ET12, are both tri-band mesh routers, and we suggest you use these two models with default backhaul configuration, especially when you have 6 GHz clients at your place.
For more detailed tech specs, please visit here.