Short Briefing About WiFi 6
The main enhancements of WiFi 6 are the introduction of OFDMA technology, which enables the simultaneous connection of more devices, and the doubling of QAM modulation accuracy, which increases the connection speeds of individual devices.
Additionally, WiFi 6 adds BSS Coloring technology, which helps lessen signal jitter when multiple routers are present in a network. Also, because the protocol has a target wake-up time design, it can minimize Wi-Fi power consumption. WiFi 6 is up to 40% faster than current WiFi 5 devices.
WiFi 6 enables more devices to interact simultaneously with a router, such as a home network hub. Additionally, it lets a router transmit data to several devices at once, for more efficient communication in a smart home. WiFi security has also increased significantly because of support for WPA3 encryption, which makes network passwords more challenging for hackers to crack.
WiFi 7 vs WiFi 6: What's the difference?
Now let's discuss WiFi 7, whose official name is "Institute for Electrical and Electronic Engineering (IEEE) 802.11be." WiFi 6 provides what is known as a "High Efficiency" WLAN, while WiFi 7 goes beyond and earns the EHT or "Extremely High Throughput" label. Its predecessor WiFi 6E has just recently begun to take off, and its ability to transmit wireless data at speeds in excess of 2,000 Mbps has impressed power users.
By merging three data bands (2.4, 5 and 6 GHz), ultra-wide data channels and numerous data channels together for even greater performance, WiFi 7 goes a step further. Because of this, the newest wireless standard has the potential to usher in a new era of connectivity and reliability that would make wired connections obsolete.
WiFi 7 is anticipated to feature the following enhancements over Wi-Fi 6 (802.11ax):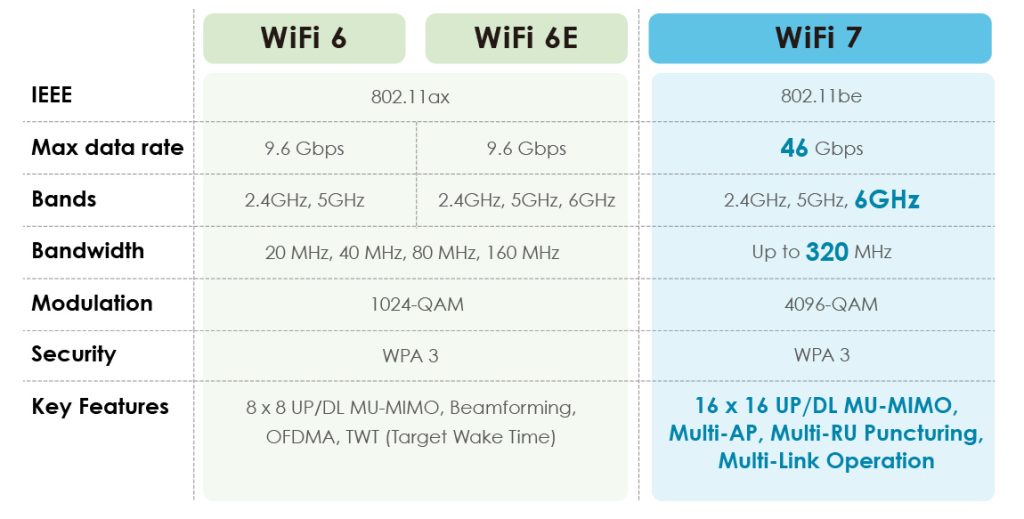 Double the width, higher speed
4096-QAM
A signal's data density is indicated by its QAM number. The bigger the number, the more data there is in the signal. Therefore, with increased QAM, the efficiency drastically improves for each signal delivered, resulting in a reduction in the number of signal pulses needed to send the same amount of data as before. The modulation order of WiFi 7 is improved even further, moving from 1024-QAM to 4096-QAM. Accordingly, each modulation symbol may hold 12 bits of data. When compared to 1024-QAM in WiFi 6, 4096-QAM can increase rates by 20% while maintaining the same coding.
320 MHz
As you may be aware, WiFi 6 supports the 2.4 GHz and 5 GHz frequency bands, while WiFi 6E (an improved version of WiFi 6) adds the 6 GHz band. WiFi 7 will continue to use the new 6 GHz band and work toward the goal of simultaneously using three frequency bands for communication to increase its own connection speed and bandwidth. WiFi 7 increases the width of a single channel from Wi-Fi 6's 160 MHz to 320 MHz.
Double the capacity, more streams, more reliability
16 x 16 MU-MIMO
MIMO (Multiple Input Multiple Outputs)
Also referred to as SU-MIMO (single user MIMO). Here, the transmitter and receiver can combine channels across several antennas to boost speed and reliability for individual devices. Early implementations of MIMO, such as those seen in WiFi 4, were referred to as SU-MIMO and could only address one client station at a time. WiFi 5 permits four SU-MIMO streams to be DL (Downlink) MU-MIMO, allowing up to four clients to connect with each other at the same time, but only in one direction (such as from a WiFi router/access point to a client device).
MU MIMO (Multiple User Multiple Input Multiple Output)
WiFi Routers/access points may concurrently transmit to a number of clients. WiFi 5 allowed for up to four client devices to take advantage of MU-MIMO at a time. WiFi 6 increased that to eight. WiFi 7 further increases the number of spatial streams from eight to sixteen. As a result, the theoretical data transmission rate is doubled.
Multi-Link Operation
MLO refers to the capacity to combine several channels over different frequency bands to boost a client device's range and speed. Prior to WiFi 7, all WiFi devices would agree on and utilize a single frequency band, such as 2.4 GHz or 5 GHz, and then agree on additional channels inside that band to boost throughput (assuming the sender and receiver have a sufficient number of antennas to do that). Multi-Link Operation extends this by including additional frequency bands to integrate not just numerous channels but also 2.4 GHz, 5 GHz, and 6 GHz bands into a single virtual communication pipe with a client.
Multi-AP
Multi-AP refers to a grouping of several access points that transmits and receives data to and from a single client device as a single virtual unit. If you have more than one WiFi router and use several access points, this can enhance speeds. This will probably help mesh systems where several access points may be used to serve a single client.
No Waste, Make Full Use of Every Resource
Multi-RU (Resource Unit) Puncturing
With WiFi 6, each user can only send and receive packets on the RUs assigned to them, restricting the flexibility of spectrum resource scheduling. To address this issue, Wi-Fi 7 proposes a technique for distributing several RUs to a single user to increase spectrum efficiency even more.
Multi-RU Puncturing is intended to examine how much bandwidth the device requires, what channels are currently in use, and where the interference is before allocating the signal to non-interfering channels for that client. Depending on the amount of bandwidth necessary, this technology may practically shape the channels utilized around congested channels.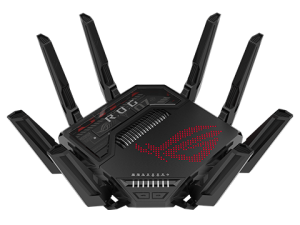 The world's first quad-band WiFi 7 ROG gaming router.
[i] Compared to the previous WiFi 6 platform
[ii] Measured using WiFi 6 client connected at 200 Mbps to WiFi 6 router with RangeBoost Plus, compared to same WiFi 6 client connected at 200 Mbps to WiFi 5 router without RangeBoost Plus.
[iii] Subject to regulatory limitations, and co-existence with 5 GHz WiFi. Number of channels may be less than 7. If no 6 GHz SSID is displayed, please check whether your OS and client device are fully licensed to support the newly released 6 GHz band. You can check with your OS and client device provider for the WiFi 6E driver release schedule.