WiFi 7, the next generation of wireless networking is here, and we have the routers you'll need to accelerate the network of your home or business.
Today, we're here to bring you the latest product news that we've been prepared for a long time – ASUS RT-BE96U, the world's first tri-band WiFi 7 router!
Unlike the WiFi 6 standard, which focused on congestion-busting tech designed for crowded networks, WiFi 7 delivers faster wireless speeds than ever, all while retaining or refining the advantages of WiFi 6. Our new product, RT-BE96U leverages full of the benefits from WiFi 7 with 320 MHz channel support in the 6 GHz band and 4K QAM modulation that can pack more data into transmissions. The peak data rates are up to 20% higher, which delivers super-fast speeds up to 19,000 Mbps. Comparing to the last generation, it's a 1.7 times upgrade! What's more, with the latest  revolutionary features: Multi-Link Operation (MLO) and Puncturing allow RT-BE96U to deliver more efficient and reliable wireless connections.
Supporting three frequency bands, users can dedicate the 6 GHz band as a mesh backhaul to enjoy the 320Mhz channels although there's no WiFi 7 clients yet in the current market.
Users can enjoy up to 10X faster data-transfer speeds for bandwidth-demanding tasks under two 10 Gbps ports design. Also, RT-BE96U comes with the latest ASUS-exclusive features for users who aspire to level up the ultimate WiFi experience. The exclusive ASUS RangeBoost Plus strongly improves the signal range and overall coverage. The mobile game mode, gaming port and gear accelerator significantly increase the gamers experience which provide stable connection and wonderful network connecting speed.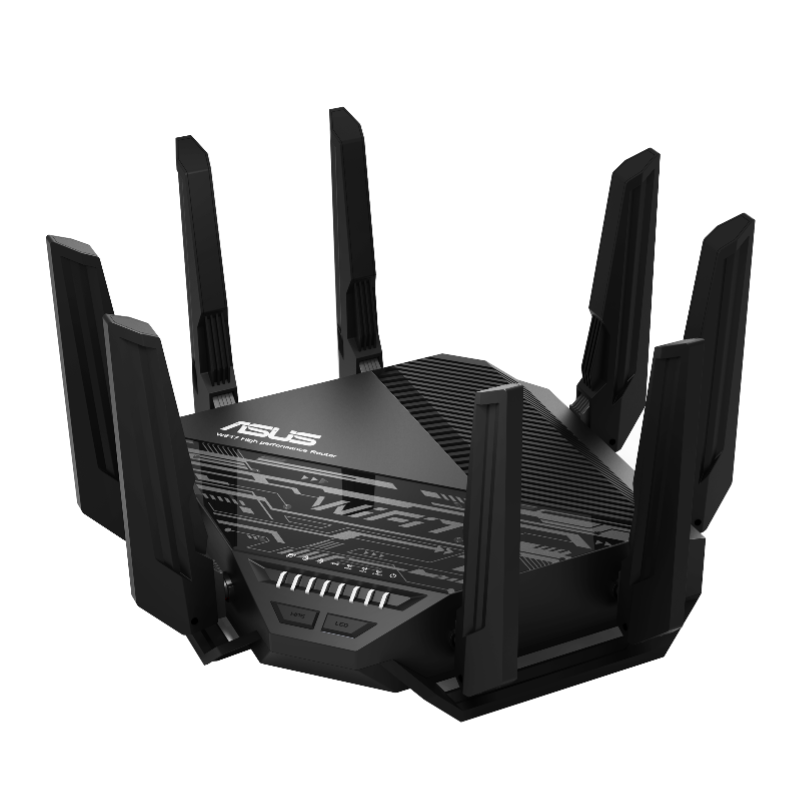 RT-BE96U contains with 8 external antennas which provides ultimate connection speed and signal range.
The exterior styling design shows texture and is very suited for the smart home decoration.
Stay tuned for more WiFi 7 products coming from ASUS very soon!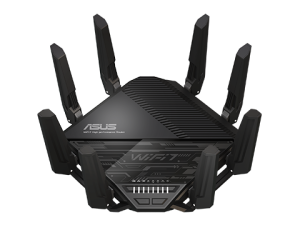 RT-BE96U Tri-Band WiFi 7 Router with dual 10G Port, AiMesh for mesh WiFi, AiProtection Pro network security
* To benefit from WiFi 7 features, the WiFi client needs to be WiFi 7 capable.
* Due to regulatory restrictions, the 6 GHz band is only available in some regions/countries.
* Actual data throughput and WiFi coverage will vary from network conditions and environmental factors, including the volume of network traffic, building material and construction, and network overhead, result in lower actual data throughput and wireless coverage.
[i] Compared to the previous WiFi 6 platform
[ii] Measured using WiFi 6 client connected at 200 Mbps to WiFi 6 router with RangeBoost Plus, compared to same WiFi 6 client connected at 200 Mbps to WiFi 5 router without RangeBoost Plus.
[iii] Subject to regulatory limitations, and co-existence with 5 GHz WiFi. Number of channels may be less than 7. If no 6 GHz SSID is displayed, please check whether your OS and client device are fully licensed to support the newly released 6 GHz band. You can check with your OS and client device provider for the WiFi 6E driver release schedule.