Because of the convenience of wireless networking, WiFi has become indispensable in our daily life at work and at home. With more and more devices requiring internet access through a WiFi connection, and performance demands getting heavier, wireless technology must advance to create and preserve a robust user experience.
In the late 1990s, the Institute of Electrical and Electronics Engineers (IEEE) created the first WiFi standard, 802.11b, which became widely accepted. Since then, it has continued to evolve, such as expanding from the 2.4 GHz band to operating either in 2.4 GHz, 5 GHz, or 6 GHz bands. Wireless protocols also adopted a more approachable naming scheme to announce the new generations of WiFi standards; such as WiFi 4, WiFi 5 and WiFi 6/6E. These represent 802.11n, 802.11ac and 802.11ax, respectively.
Though WiFi 6/6E was released not long ago, WiFi 7 (IEEE 802.11be) is right around the corner, and it is designed to reshape our WiFi experiences with a huge leap in networking technology.
So, what improvements will WiFi 7 bring us? Let's dive into the new generation.
WiFi 5 vs. WiFi 6/6E vs. WiFi 7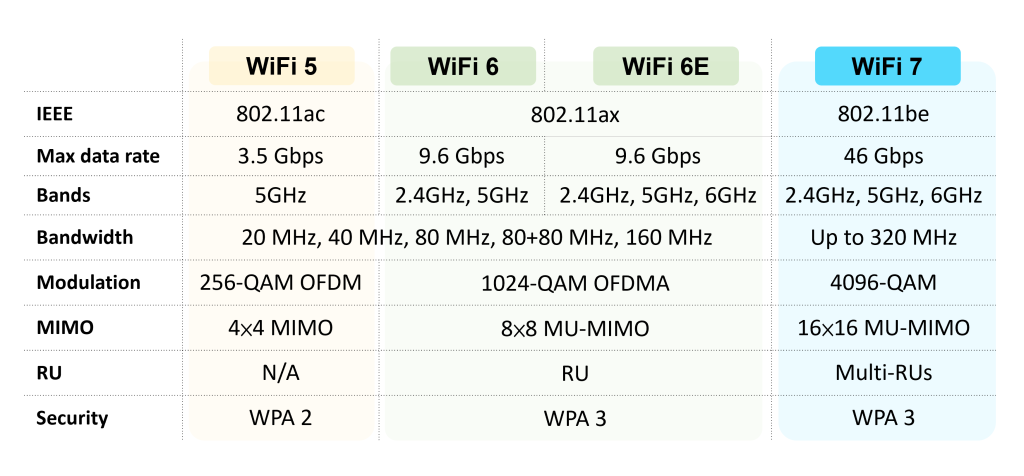 So, what are those improvements WiFi 7 going to bring to us? Let's dive into the new generation of WiFi.
The Next Level WiFi Experience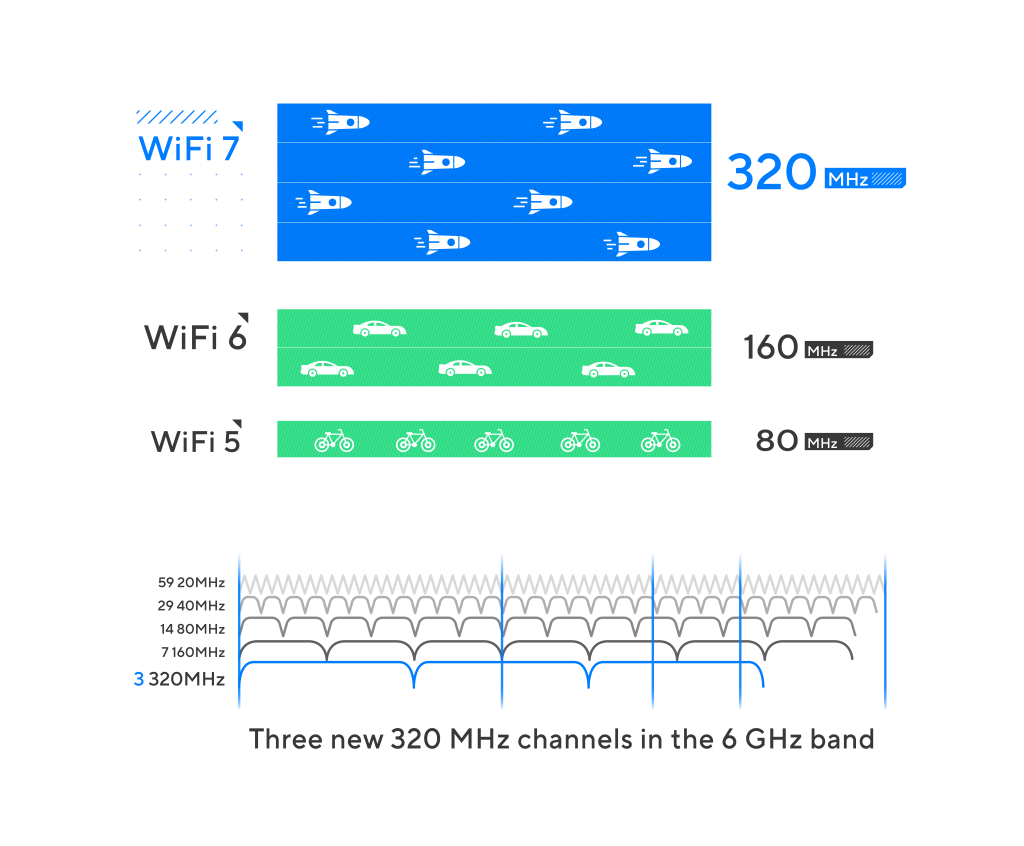 While WiFi 6E increased channel width in the 6 GHz band to 160 MHz, WiFi 7 pushes the bandwidth to ultrawide 320 MHz channels, doubling data transmission capacity. You can interpret networking as the freeway and the doubled bandwidth as the wider lane. Now larger vehicles packed with more data can get on the freeway.
* Due to regulatory restrictions, the 6 GHz band is only available in some regions/countries. With the introduction of 4K-QAM, WiFi 7 improves data transmission rates by 20% compared to WiFi 6/6E since a higher QAM number means that data can be more densely compacted into a signal transmission. Now higher QAM means that more merchandise can be loaded onto one vehicle. In other words, you can now upload/ download more data at the same time than before.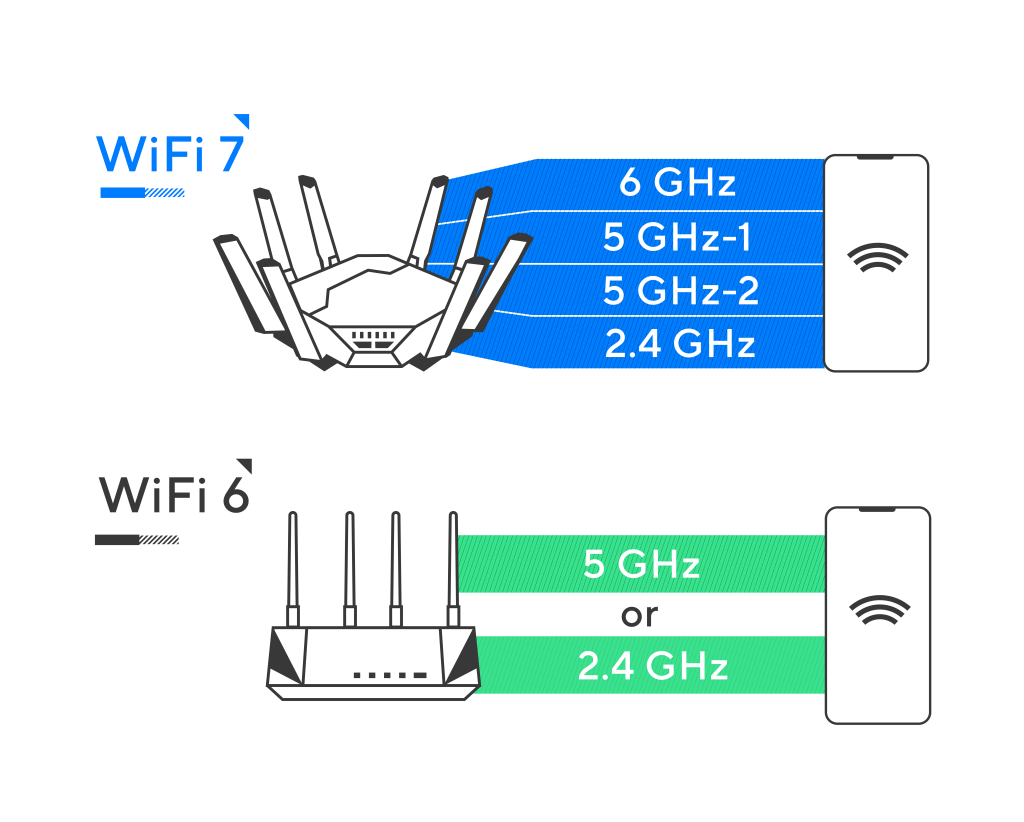 Before WiFi 7, transmissions were limited to one band, such as 2.4 GHz or 5 GHz. MLO (Multi-link Operation) enables one device to connect to different bands, allows devices to transmit and receive data across bands simultaneously, and enables faster speeds by aggregating bandwidth with more reliable WiFi connections on multiple concurrently used bands. In other words, now the vehicles in our analogy can switch lanes without having to re-enter the freeway, freeing them to transport important merchandise with fewer delays.
Multi-RU & Preamble Puncturing Before WiFi 7 came along, an entire wireless channel could be claimed by a single connected device. With Multi-RU and preamble puncturing, Wi-Fi 7 devices will be able to take full advantage of the remaining parts of the channels that are idle or even interrupted. Simply put, now data transmission becomes quicker and more reliable, and channel bandwidth can be used more efficiently.
16×16 MU-MIMO
MU-MIMO (Multi-User Multiple-Input Multiple-Output) supports multiple users to transmit and receive data simultaneously. With 16×16 MU-MIMO, WiFi 7 doubles the number of spatial streams in comparison with WiFi 6, thus increasing network capacity. Now more WiFi devices can work smoothly at the same time.
* Note that 16×16 MU-MIMO is not a mandatory feature for all WiFi 7 devices though it is the maximum technical standard of WiFi 7.
Transform Your Life with WiFi 7
In the age when smartphones were not predominant telecommunications devices, we could only surf the internet with desktop and laptop computers, indoors. But now, whether you are using GPS navigation while driving, streaming videos during a train ride, or asking your virtual assistant to set a cooking timer, you can easily access the internet with WiFi-connected devices. This technology has transformed a wide variety of our daily habits.
The steady improvements of WiFi technology have empowered us to enjoy conveniences that were not possible before. We look forward to seeing what WiFi 7 can bring to everyone.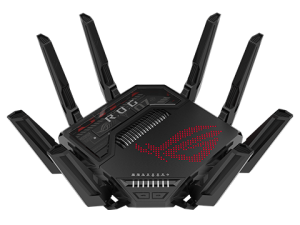 GT-BE98 quad-band WiFi 7 (802.11be) gaming router, support new 320MHz bandwidth & 4096-QAM, Multi-link operation (MLO), Puncturing, three 10G ports, VPN Fusion, Triple-level game acceleration, Mobile game mode, Quad Level Security and AiMesh support, RangeBoost Plus, AURA RGB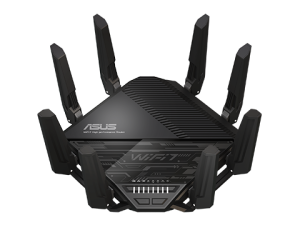 RT-BE96U Tri-Band WiFi 7 Router with dual 10G Port, AiMesh for mesh WiFi, AiProtection Pro network security
[i] Compared to the previous WiFi 6 platform
[ii] Measured using WiFi 6 client connected at 200 Mbps to WiFi 6 router with RangeBoost Plus, compared to same WiFi 6 client connected at 200 Mbps to WiFi 5 router without RangeBoost Plus.
[iii] Subject to regulatory limitations, and co-existence with 5 GHz WiFi. Number of channels may be less than 7. If no 6 GHz SSID is displayed, please check whether your OS and client device are fully licensed to support the newly released 6 GHz band. You can check with your OS and client device provider for the WiFi 6E driver release schedule.